How to Load a Dishwasher in a Right Way – The Ultimate Guide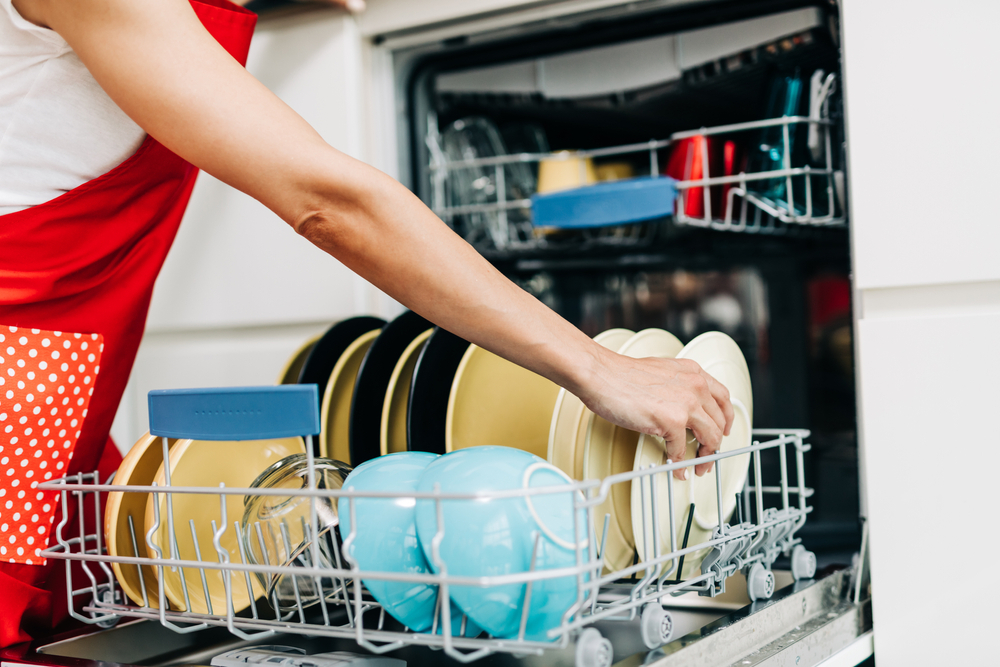 Let me ask you one thing:
"Do you still pre-rinse dishes before loading them into your dishwasher?"
If YESSS, this article will miraculously help you to save lots of time & energy. How??
You will get to know in the further article, but still, if you want some hint, here it is:
There are trustworthy sources that say pre-rinsing is completely optional. You can skip it and save time.
If you still want to pre-rinse dishes make sure to have your best waterproof dishwashing gloves on to protect your hands from the mess.
But that doesn't mean you should let the big chunks of food stuck in the dishes get inside the dishwasher. So, such debris before loading the utensils in your dishwasher.
Moreover, this information will serve as your guide to load which vessel in which dishwasher rack. So, don't miss this article if you are messing up now & then with the dishwasher.
1
I am not against pre-rinsing, but you can save your time by avoiding it!
As suggested in the Introductory paragraph, that trustworthy resources mentions about the pre-rinse of dishes is not compulsory before loading them into the dishwasher, here is what Carolyn has to say about it:
"To rinse or not to rinse? That is the question, and the answer is not to rinse." – Carolyn Forte, Director, Home Appliances & Cleaning Products Lab, Good Housekeeping.
So, the thing is, you are wasting your precious time on pre-rising dishes. But if you still want to pre-rinse them, no one's gonna stop you!
However, let's discuss tips to keep in mind before loading dishes.
2
Tips to remember before loading vessels in the Dishwasher!
Save the Plastic vessels:
If you avoid securing the plastic vessels, water shoots can cause them to flip and get filled with water.
Even in a worse condition, it might melt and stick if exposed to heating elements.
Take care of Glasswares:
It's common that we put glasswares in our dishwasher. Make sure they are not exposed to heating elements and also fix them at one place so water shoot cannot move and break it.
Avoid Piling up the vessels:
Piling the vessels will cease the water spray to reach the stains in dishes. Hence, never pile or stack the utensils or they will come out dirty as before.
Do not overstock:
Avoid overstock of vessels, as it will keep certain dishes dirty and might break some of them.
Keep the silver and stainless steel separate:
There is a possibility that any reaction may trench during the washing process. So, always try to avoid silver or silver-plated vessels while washing them a dishwasher for indian homes.
3
The Bottom Rack, the Flatware Basket & the Top Rack
The Bottom Rack of your dishwasher will contain Bowls & Dishes
Keep the dirty side facing the bottom, so the water spray can clean the stains in the bowls and dishes.
Along with dishes, you can also place pans, pots, pressure cooker (should be lightweight), and casseroles as well. (Make sure you are not overloading the dishwasher!)
If you are placing flat platters, stand them at the side of the rack so they do not block the dispensers.
The Top Rack of your dishwasher will contain Glasses & Cups
Place the glasses between tines and never on top. It may happen that the shoot water discharge can crack the glasses.
Also, the tines help to avoid water puddles in the glasses. So fix the glasses in their place and close the dishwasher.
Also, wine glass requires careful arrangements. The foot of the Wine glass may break if it bumps against the door, each other, or with the top of the dishwasher. So, place them accurately.
Flatware basket for Spoons, Knives, Fork and other Cutlery
This basket is specially crafted for placing cutlery items in it. Spoons, knives, forks, etc can receive a nice wash without nesting up with other huge vessels.
Some models have special stands or hooks for placing spoons. So, you gotta use that hooks or baskets, whichever is available in your model.
4
Now is the turn of the Perfect Detergent
Finish Dishwasher Detergent can be the perfect fit for you if you are looking for a reliable, qualitative, and budget-friendly detergent.
As per the multiple tests by using Finish Detergent in Dishwashers, our team can conclude that:
"If your vessels are loaded properly, and your dishwasher functions normally, this dishwasher is perfect for you."
5
Conclusion
Let's hope you receive help from this article about how to load & use the dishwasher.
Moreover, if this article made you happy, please let me know in the comment section below. Our team appreciates your suggestions and is always ready to solve your doubts regarding the relative subject.
For more such helpful articles, stay tuned and Happy Reading!
About This Article
Shreyal Shingala is a Content Writer and also a Product tester at BestCheck. Overseeing the content and products, she edits our preceding articles too. Along with that, she loves to spend time with her family when she got her leisure time. Previously, she worked as a content writer and researcher for a digital marketing agency and has written in different niches like blogs, comparison guides, entertainment, and many more.
This article has been viewed 1627 times.